We offer a range of personalised rosettes for equestrian centres, horses, ponies, cats, dogs, rabbits, birds, chickens/roosters, guinea pigs, horticultural and agricultural events/shows to suit your requirements made in woven edge super high quality satin ribbon. Rosettes are round with a 50mm centreboard. Please see our Styles of Rosettes page.
Showstopper & awards rosette range. For prices please see our new page.
Woven Edge Super Satin
A luxurious single sided satin ribbon with high gloss satin sheen. Kent & Worcester styles use 1" (25mm) depth. The 'Superior' styles use a 1.5" (37mm) depth, which gives a very impressive rosette.
| | | | | |
| --- | --- | --- | --- | --- |
| Round | Kent | Kent Superior | Worcester | Worcester Superior |
| 1 Tier | £0.74 | £0.98 | £0.96 | £1.19 |
| 2 Tier | £1.05 | £1.49 | £1.19 | £1.64 |
| 3 Tier | £1.50 | £2.06 | £1.63 | £3.37 |
| 4 Tier | £1.97 | £3.22 | £2.98 | £4.30 |
| 5 tier | £2.58 | £3.78 | £3.60 | £4.93 |
| | | | | |
| | | | | |
| | | | | |
| | | | | |
Round Tail Lengths
1 – 2 tiers have 8″ tails
3 – 4 tiers have 11″ tails
5 tiers have 14″ tails
Round Rosette Widths
Our Kent and Worcester rosettes:
1 tier – 3.5″ wide
2 tier – 4.5″ wide
3 tier – 5″ wide
4 tier – 5.5″ wide
5 tier – 6″ wide
Our Kent and Worcester Superior rosettes:
1 tier – 4.5″ wide
2 tier – 5.5″ wide
3 tier – 6″ wide
4 tier – 6.5″ wide
5 tier – 7″ wide
Centreboard Size
We only use 2″ (50mm) wide round centreboards.
All measurements are an approximate and are given as a guide only.
To purchase please see our shop or please fill out our form here and click the submit button. We will contact you via e-mail with a price, as soon as possible.
Rosette Fastenings
We always have in stock bridle hooks, crimp pins or ties.
Bridle hooks or crimp pins are included in the rosette price. We charge an additional 5p per rosette for ties.
How To Place Your Order
Please e-mail your order to Kathy@themanorrosettecompany with the following information:
Type of pleat.

Number of tiers.

Colours required for tiers (please start with outer tier colour first) and tails.

Quantity of rosettes.

Colour of centreboards.

Wording and other graphic/motif for centreboards and/or tails.

Type of fastening – bridle clip, brooch pin or ties

Date order required.

Your full postal address including postcode.
We can then give you a quote including postage. Please advise if you would prefer to collect your order.
Please note we ask that all personalised orders are to be made in writing and e-mailed to us directly at:
Kathy@themanorrosettecompany.co.uk
*Please note that if you require your order within 14 working days we will need to post out parcelforce express or special delivery post, to ensure your order reaches you in time*
Picture: 4 tier Worcester Superior Rosettes each with 4 tails and extra long 14″ tails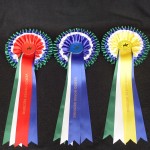 Picture: 3 tier Superior Kent Rosettes each with 5 tails and extra long 20″ tails
Picture: 3 Tier Kent Knife Pleat Rosettes with personalised centreboard and 3 tails.

Picture: 3 Tier Box Pleat Worcester Rosette with Clear Round centreboard with 3 tails.
Picture: Carnation Flower with 2 tails, 1 tail printed
These carnation flower centres for rosettes or badges with or without tails cost only £1.84 each
Picture: 2 Tier Knife Pleat Worcester Superior Rosette and 4 printed tails
The Carnation Centre is an additional cost depending on size of rosette.
 Champion & Reserve Champion Rosettes
A luxurious 3 tier single sided satin ribbon with high gloss satin sheen. Using 1" (25mm) depth.
Prices are:
Kent Style (knife pleat) £1.50
Worcester Style (box pleat) £1.63
Printing costs of centreboards is £1.00 for set up per order.
Wording for Centre Boards
Some wording and motifs we have available:
1st to 10th and 1st to 6th
Champion, reserve champion, reserve best in show, best in show
Special, clear Round, well done, winner
Happy birthday, happy Christmas, happy Easter and Halloween                      
Hen party, bride/groom and wedding bells
Dogs
Best of Breed, best dog, puppy, best puppy dog, best working hound, best dog hound, best GSD, reserve, best puppy, best opposite sex, best of breed, best couple, best puppy bitch, best bitch and best reserve…
Horses
Horseshoe, horses head, dressage horse and rider, showjumping horse and rider, RDA logo, Pony club logo, clear round….
If you are looking for something that is not listed here, please e-mail us. We can order wording and logos from our supplier for approx. £20 – £25.00.
Clear Film Front Bags
We supply clear film front bags for your sets of rosettes.
Why not make it easier and have the rosettes sorted in the appropriate sets/classes on delivery.
Only £0.10 per bag.
Important – terms and conditions
We have no minimum order and are happy to supply as few or as many rosettes as required. However orders under 20 rosettes will incur a small order charge of £2.50 to all personalised orders.
For urgent/last minute orders we ask that we receive payment within 48 hours of you receiving our invoice.
For last minute orders that need to received within 14 working days there will be a surcharge of £7.50 to all orders received between 1st April and 30th September.
All invoices must be paid prior to manufacture and your order being sent.
Please allow a minimum of 28 working days from order to delivery (especially from April to September). For stock items please allow 10 working days.
If you wish to make a order or have any questions please use the contact us tab on this page
**Please note we ask that all personalised orders are to be made in writing and e-mailed to us directly at**: