Styles of Rosettes
Stock Rosette Range
Our Stock Rosettes are knife pleated in a 1″ (25mm) woven edge super satin ribbon and are available in 1 – 3 tiers in standard colours and cannot be personalised.
The centreboards are 50mm and printed in gold blocked lettering.
Our stock rosettes are only available with bridle hooks as standard. If you require ties or brooch pins please let us know upon ordering.
For further information please see our shop: https://www.themanorrosettecompany.co.uk/shop
Personalised Rosette Range
We are happy to supply rosettes in knife pleat & box pleat using woven edge super satin ribbon in 1 to 5 tier. A wide range of colours are available please see our ribbon colours page. All our rosettes are round and made with 50mm centreboards only. Please contact us to discuss further.
The Kent
This very popular knife pleated rosette is an excellent choice. Fashioned in 1" (25mm) ribbon for each tier.
The Kent Superior
Our Superior range uses knife pleat in a wider 1.5" (38mm) deep ribbon for each tier. A reasonably priced rosette which offers impact.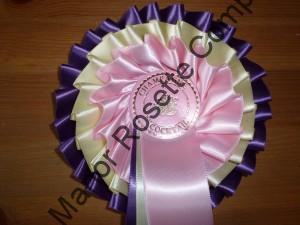 The Worcester
This very popular box pleat gives a true quality look of its own. An excellent choice for any event.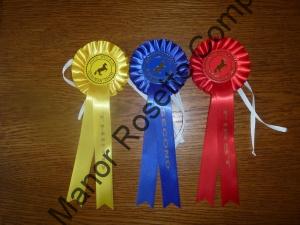 The Worcester Superior
The Superior, in box pleat gives a much larger overall rosette using 1.5" (38mm) ribbon for each tier. A very impressive award.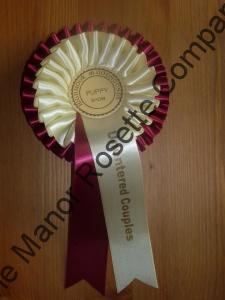 Carnation Flower
A Carnation flower can be used:
On its own with or without tails:
In the middle of a rosette instead of the centreboard:
Colours available:
White, navy buttercream, red, blue, orange, green, pink, yellow, purple, black, lavender, fushia, light blue, aqua, silver and black. There are more colours on the ribbon colours page.
Special Ribbon:
Paw printed ribbon in red, blue, yellow, green, pink and purple.
Polka dot in navy or red.
Tartan.
We also supply:
Sashes
Rosette Fastenings
We always have in stock bridle hooks, crimp pins or ties.
Bridle hooks or crimp pins are included in the rosette price. We charge an additional 5p per rosette for ties.
If you wish to make a order please use our form here
Or have any questions please use the contact us tab on this page
or e-mail us directly at:
Kathy@themanorrosettecompany.co.uk