We have developed a new range particularly for British Riding Clubs competitions.
The rosettes are available in sets of 1st to 6th.
The rosettes have 3 x 11″ tails and our standard 2″ (50mm) centreboard. This rosette set belongs to our Kent range (knife pleat) and are available in 3 tier only.
The ribbon colours are as follows:
1st – red/white/red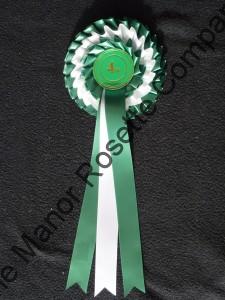 2nd – royal blue/white/royal blue
3rd – yellow/white/yellow
4th – green/white/green
5th – pink/white/pink
6th – purple/white/purple
Prices
This rosette is £1.52 each (£9.12 per set)
Please contact us with:
Your personalised wording for around the outer edge of the centreboard.
Personalised Centreboard Wording
We are happy to print your own equestrian centre/school/college/show wording around the outer edge of the centreboard. The maximum number of characters including spacers we can fit is 25.
We do have the BRC logo if you would like this printing instead of the traditional placing of 1st to 6th, please let us know upon placing your order.
An additional cost of £1.00 set up will apply to your order.