Our sets of rosettes are suitable for horses, cats, dogs, guinea pigs or rabbit shows.
The rosette colours can be made in any colour combination. The traditional colours are shown in our photos:
1st red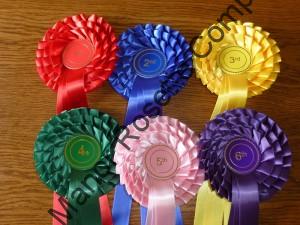 2nd blue
3rd yellow
4th green
5th pink
6th purple
The centreboards are 2″ (50mm).
Tail length is 11″.
Our rosettes can be made with bridle clips, brooch pins or ties.
Brilliant for any show/competition/any event.
Centreboard Printing
We can fit a maximum of 25 characters including spacing around the outer edge of the centreboard.
Please see our page of motif/logos for the middle of the centreboard.
If you would like a motif or logo that we do not have, please e-mail us your logo in JPEG format so that we can contact our suppliers for a price.
*Please note that if you require your order within 14 days we can only process your order by e-mail as we will need to post out parcelforce express or special delivery post to ensure your order reaches you in time*
Any questions please e-mail Kathy@themanorrosettecompany.co.uk